Loving A Spooky October
October is a fun time for everyone. Are you looking for some fun things to do in October to prep you for Halloween? Here are some fun things you can do!
* Scary Movie Marathon – Get together with your friends and choose your favorite scary movies to share!
* Share scary stories and have fun watching everyone squirm!
* Decorate & Carve Pumpkins – This is an old time favorite tradition to make Halloween fun and add to the ambiance of your home and parties!
* Juices! Make some fun drinks for you and your goblin friends:
Shrunken Head Cider – From Martha Stewart's recipe!
Ingredients:
2 cups lemon juice
2 tablespoons coarse salt
8 large Granny Smith apples
32 whole cloves
2 gallons apple cider
2 (12-ounce) cans frozen lemonade concentrate, thawed
2 cups spiced rum (optional)
Directions:
– Preheat oven to 250 degrees. Line a baking sheet with parchment paper; set aside. In a medium bowl, mix together lemon juice and salt; set aside.
– Peel apples and cut each in half through the stem; remove seeds and core. Using a sharp paring knife, carve a face, as desired, on the rounded side of each apple half. Place apples in lemon mixture for one minute; transfer to paper towels to drain.
– Place apples, face-side up on prepared baking sheet and transfer to oven. Let bake until apples are dry and begin to brown around the edges, about 90 minutes. Remove apples from baking sheets and press cloves into the "eye" sockets.
– Combine cider, lemonade, and rum (if using) in a large punchbowl; float shrunken heads on top.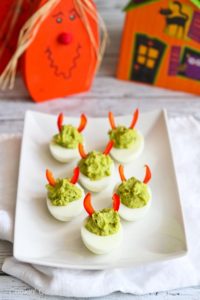 Devilish Avocado Sriracha Deviled Eggs Recipe!! These are from Dara Michalski
Serves 12
Ingredients:
6 hard-boiled eggs, peeled
3/4 California avocado
1 tsp fresh lime juice
1/4 – 1/2 tsp sriracha, to taste
1/8 tsp salt
1 tbsp minced cilantro
12 thin red bell pepper strips
Instructions:
– Cut the hard-boiled eggs in half lengthwise, remove the yolks and place the yolks in a medium bowl.
– Add the lime juice, sriracha (to taste) and salt, and smash again until combined.
– Use the tips of the red bell pepper strips and trim them like horns. Place 2 "horns" into each stuffed egg. Serve.
HAPPY HALLOWEEN!!